Amenities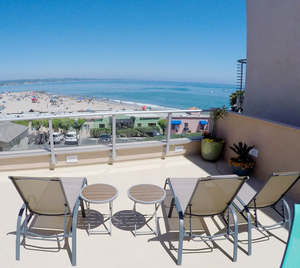 You'll be in a place of relaxation, rest, and tranquility in any one of our 10 custom designed suites. All but one of our suites has breathtaking ocean views.
Along with a full kitchens* and separate bathroom you'll feel right at home.
*
O
nly
Suite 9 has a cozy coffee nook, mini refrigerator & microwave.
We offer a safe and secure parking garage with full 24-hour surveillance for 7 of our suites except for units 1, 5 and 8 where a parking permit is assigned by the hotel which will cover the duration of your stay.
There are so many exciting features to our seaside hotel including a full-size elevator and roof-top terrace, complete with a fireplace and expansive views of the entire Monterey Bay and Capitola Village.